Marshall Jcm 2000 Dsl401 Dual Super Lead Combo Amp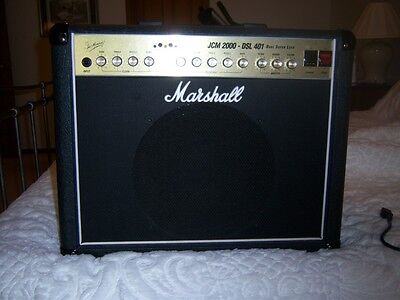 This amp is in great shape, no damage or signs of misuse. All features work perfectly. You won't find a better amp for playing small clubs. Has the Marshall sound without the need to lug around a half stack.
Power cord and footswitch included.
Here are the specs from Marshall:
Marshall DSL401 Features:
40W to a single custom-voiced Celestion 12
Footswitchable gain boost on lead channel
Two totally independent channels: Clean and Overdrive
Reverb
Speaker emulation output
Parallel FX loop
LED-equipped footswitch included
Marshall DSL401 Front Panel Features:
Input Jack
Clean Gain
Clean Treble, Mid, Bass
Channel Switching
Overdrive Gain
Master FX Mix
Master Reverb
Master Volume
Overdrive Volume
Overdrive Treble, Middle, Bass
Standby Switch
Power Switch
Marshall DSL401 Rear Panel Features:
Channel Footswitch Jack
Reverb Footswitch -(DSL401 only)
FX Loop Send Jack
Speaker Emulated D.I. Out Jack
Loudspeaker Output Select -
(DSL401 Only)This switch selects the
Loudspeaker Output Jacks
H.T. Fuse - See specifications for correct value
Mains Input
Mains Fuse - See
Marshall DSL401 Specifications:
Power Output - 40 Watts RMS into 8 or 16 ohms
Valve complement - 4 x ECC83/12AX7 and 4 x EL84
Loudspeaker Type - 12" 16 ohm 100 Watt Model SPKR-00068
Mains Requirement - Preset for 117V~60Hz or 230V~50Hz
Other variations to special order - see local distributor for information.
Mains Fuse - T2A - 117V or T1A - 230V
H.T. Fuse - T315mA
Winner to pay $50 shipping in the continental USA